A good flight with your cat starts well before you actually check-in and board the plane!
Flying with your cat means taking initiative, detailed planning, and thorough research on your behalf.
If this is your first time, it can be overwhelming if you don't know what to expect. Fear not – you're about to learn everything you need to know.
Cats aren't particularly enthusiastic about flying in a giant noisy airplane because it can be a scary experience for them.
With the right preparation, you can make flying in an airplane as comfortable as possible for your cat.
Keep reading to learn more about the rules, regulations, and helpful tips to make flying with your cat a positive and comfortable experience!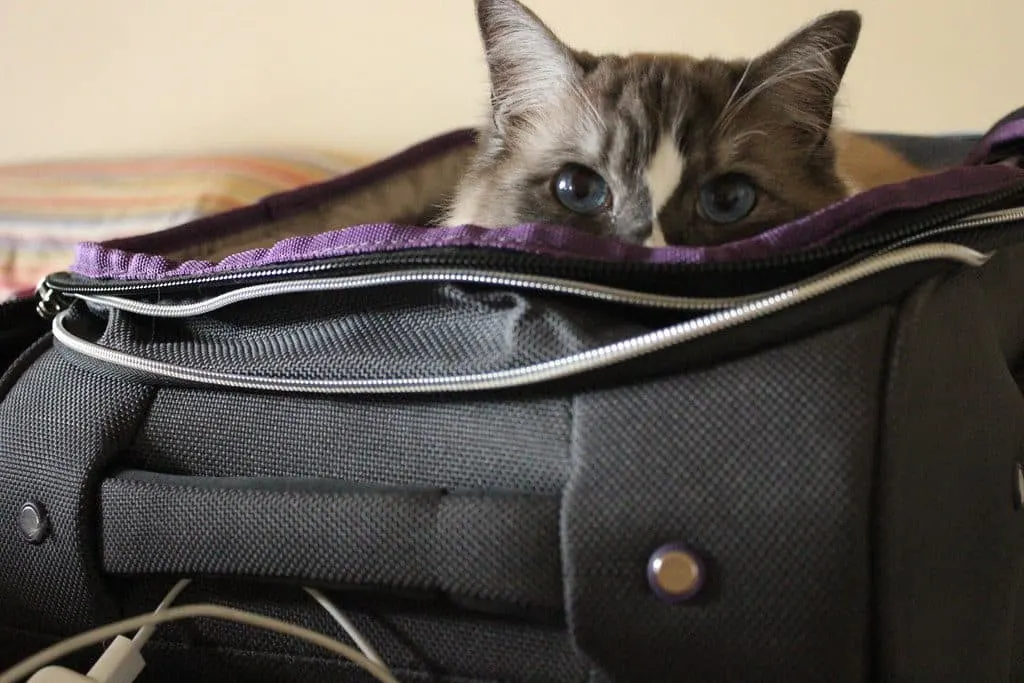 Questions To Ask Yourself Before Flying With Your Cat
Being airborne is an extremely unnatural experience for cats and will likely induce a tremendous amount of stress and discomfort.
Not all cats are able to cope with this stress.
Please ask yourself the questions below to determine if your cat is a good candidate for a flight.
Is my cat too old or too young?
Is my cat healthy enough to fly?
Has my cat experienced something traumatic that makes him/her anxious?
Is my cat recovering from an illness or surgery?
Is my cat pregnant?
Does my cat have a condition that is triggered by stress? (example: asthma)
Is my cat naturally timid and anxious or adventurous and outgoing?
How much exposure has my cat had to other people and different environments other than my home?
Only fly with your cat if it is absolutely necessary. Consider traveling by car for shorter distances or hiring a trustworthy pet sitter during your absence.
Take a Trip to the Vet – Get The Right Documentation
Before even thinking about traveling with your cat, the first thing you want to do is make sure your cat is healthy enough for the trip.
According to the USDA, tasks to complete before flying include:
Updating your cat's vaccinations
Planning in advance to get the appropriate health certificate
The documentation that your cat will need before boarding MUST meet the requirements of your destination as well.
A list of these state regulations can be found on the USDA website.
An early trip to the vet will allow your cat to get this documentation in time and prevent any blunders you might otherwise encounter at the check-in desk.
Consult with your vet to determine if any of these options are appropriate for your cat.
Know Your Airline's Pet Policy
If you have the option, always try to seek out the most pet-friendly airline.
Keep in mind that every airline is different, but most of them list their policies regarding traveling with pets online.
These policies are not the same across the board, so it's important to read the policy of your chosen airline very closely.
Please click on the links below to learn about each airline's policy and requirements for flying with cats.
Airline Cat Travel Policies
Emotional Support Animal & Service Animal Exceptions
Some airlines will wave the traveling fee for emotional support animals and/or service animals.
The rules and regulations for emotional support animals and service animals are included in the airline policy links above.
There is a distinct difference between emotional support animals and service animals.
A service animal has been trained to service someone with a physical disability, whereas an emotional support animal helps alleviate symptoms of emotional or mental disability through companionship and affection.
Click here to take a quick and free screening to see if you are eligible to make your cat an emotional support animal through CertaPet.
Purchase An Airline Approved Travel Carrier
When you've determined which airline you'll be flying with, jot down the carrier size requirements and dimensions according to their website's policy.
This will help you determine what size carrier you need for your upcoming flight.
Next, take your cat's measurements to ensure they will fit comfortably in the carrier.
Keep in mind that the majority of airlines will not allow you to take your cat out of its carrier, so you must make sure the carrier is the right size to fit underneath the seat in front of you.
Things to consider when purchasing a travel carrier:
Your airline's carrier dimension requirements
Ventilation
Your cat's size
Space availability (based on your airplane seat)
Here are our top picks for airline approved travel carriers.
Remember to double check the dimensions your airline requires before making a purchase.
Sherpa Travel Delta Approved Carrier: This durable and spacious carrier is approved by Delta and perfect for bigger cats.
It comes equipped with a comfortable handle in additional pockets and storage space to keep food, supplies, and instructions in.
Pawfects Pets Travel Carrier: This one is approved by Southwest, Delta, JetBlue, America, United, Virgin, Alaska, Allegiant, and more.
This carrier would be best for small to average sized cats. It fits under most airplane seats while still giving your cat enough room to move around.
It comes with two high quality fleece padded matts, which means you can swap out one for the other if there is an accident.
Akinerri Airline Approved Expandable Pet Carrier: This carrier with is great for those who anticipate long layovers.
The expandable side sections give your cat room to comfortably stretch without having to leave the carrier.
It also comes with a fabric loop that makes it possible to attach your carrier to your suitcase.
This carrier is airline approved, but the description does not specify which airlines it is approved for.
Regardless of which carrier you choose, do your research and make sure the carrier meets your airline's requirements and fits under your seat.
The last thing you want is a non-compliant carrier on the day of your flight!
Things to keep in/on your travel carrier
Dry food (avoid wet food for odor control & messes)
Water (in spill-proof container – open container when the carrier is stationary)
Printed instructions tucked on how to feed/care for the cat tucked away in the carrier pocket
A tag with your contact information
Absorbent accident pads (line the bottom of the carrier with these)
Preventing Accidents: It is also worth placing absorbent pads in the carrier as your cat will need to use the bathroom at some point.
Cats are prone to using the bathroom when they are anxious.
Get Your Cat Comfortable with the Carrier
There are many steps you can take to help your cat feel comfortable in its new travel carrier. It all starts with planning ahead and giving your cat time to get used to its travel carrier.
A month before your flight, start exposing your cat to the travel carrier.
Make the carrier look inviting to your cat and offer incentives for it to get inside.
You can make the carrier feel like home by putting some of your kitty's favorite comfort items inside.
Sprinkle your cat's favorite treats inside along with some catnip and leave the door open for him/her to go inside and eat or take a nap.
You can even place a heating pad inside in the carrier so your cat can rest somewhere nice and warm.
WARNING: Never leave your your cat in an enclosed space with an electric heating mat. Always keep the carrier open so they can escape in an emergency.
The goal is to produce a positive attitude towards the carrier so that when travel day comes your cat isn't distressed when confronted with the carrier.
Manage Your Cat's Anxiety
Some cats travel just fine without any vet prescribed medication. However, many cats do experience a tremendous amount of stress when traveling.
If you know your cat is very anxious and will respond badly, reach out to your vet to discuss some anti-anxiety medication for the duration of your flight.
There are some other products other than prescription medicine you can use to reduce your cat's stress on the flight.
These stress and anxiety reducing items include:
Thundershirts: This swaddles your cat and makes them feel secure.
Pheromone wipes and spray: Prepare your cat carrier with these to help lower anxiety.
Pheromone calming collar: This will stay on your cat for lasting pheromone exposure.
Consult with your vet to determine if any of these options are appropriate for your cat.
If you choose to use of the products above, I strongly recommend testing them before your flight to see how your cat responds.
Trim Your Cat's Nails
Before your flight, take a quick look at your kitty's nails.
If they are too long, then you should consider trimming them or having your vet trim them.
Here is our top pick for a cat nail trimmer.
Your cat could scratch up the inside of the carrier while traveling or even get their nails stuck in the carrier and injure himself/herself.
An average cat's nails should be trimmed once every two weeks.
Prepare Food & Water for the Carrier
Most vets would agree that cats should travel on an empty stomach. This prevents them from getting sick during the flight.
Try feeding your cat 4-6 hours ahead of your flight time and then feed them once you are stationary.
If possible, encourage your cat to have a bowel movement before the flight.
Although it is recommended to be cautious with food on travel day, there is always a chance that your flight gets delayed or cancelled.
Always pack extra food and treats so that your cat doesn't get hungry during long waits.
If your cat is traveling in cargo, be sure to attach a bag of dry food to the carrier with contact information and feeding instructions in the event of a longer than anticipated flight or cargo hold.
Enjoy Your Flight!
For a smooth flight, remember to take your cat to the vet ahead of time, understand your chosen airline's pet policy, and make your cat carrier compliant and comfortable!