Meet Augustus, AKA "Gus Gus"! He's a handsome Persian rescue cat in Nashville, Tennessee.
It's hard to believe a cat as beautiful and sweet as Gus Gus was found roaming the streets for months before he was rescued!
His human mom, Madeline, tells us all about him in the story below.
Love at First Sight
Augustus was my first ever foster cat with Fluff Nashville.
We decided Augustus fit his personality because he's ditzy and funny like Gus Gus from Cinderella.
This little Persian mix was rescued after roaming the streets for three months.
I remember going to pick him up and seeing his huge blue eyes peek up at me through his carrier.
I reached my hand in to pet him, and he started purring immediately.
It was definitely love at first sight!
When we got home, he smelled like garbage and was so hungry that he ate three bowls of cat food.
Foster Failure
Over the weeks we fostered him, I would cry every day at the thought of giving him to someone else.
I knew he was meant to be in my family!
We already had two wonderful cats, Khaleesi and Toogie, but I finally convinced my husband to let me have another.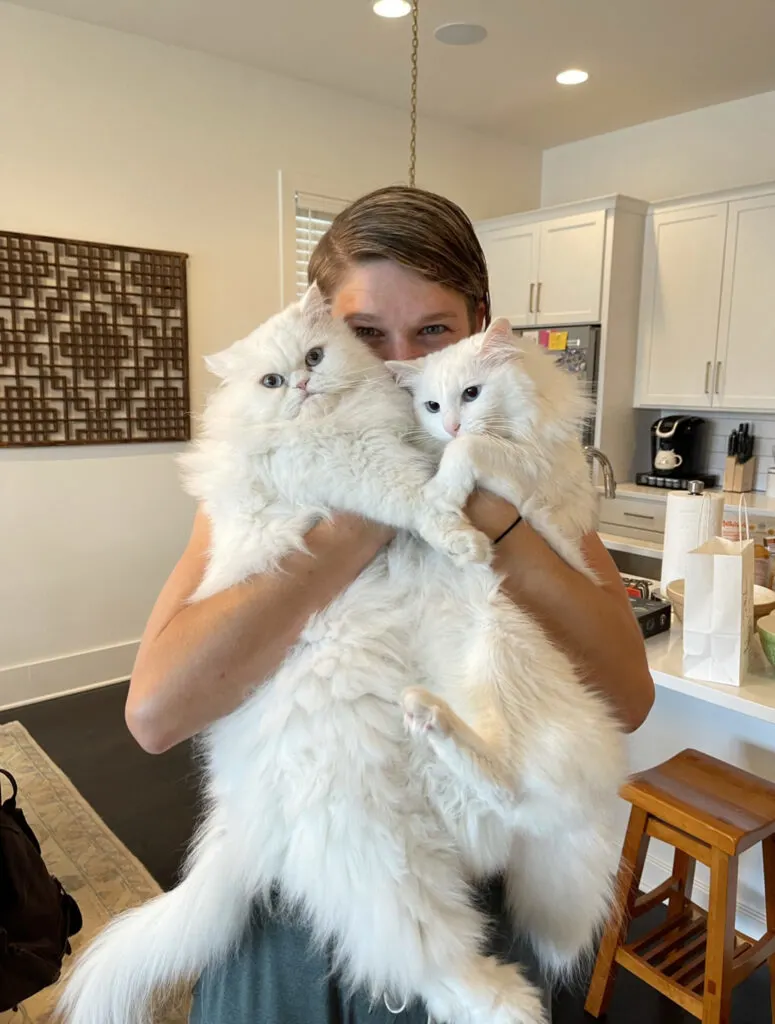 Gus Gus was a total foster failure!
However, three cats is definitely the limit for the Fitzpatrick family.
My husband and I have fostered nearly thirty kitties since then and have yet to fail again.
What is Gus Gus's personality like?
It doesn't get any sweeter than Gus!
Every day after work, he runs down the stairs to greet me meowing the whole time.
He's my shadow. Wherever I go, Gus Gus follows.
He follows me around the house constantly begging for attention and pets.
He loves to sleep next to me, especially on my pillow around my head.
He adores my husband too, but he is undoubtedly a mama's boy.
Happily Ever After
Gus looks big, but it's all fluff!
He's actually quit small, only weighing about 7 pounds.
No one knows exactly how old Gus Gus is, but the vet estimates he's around 4-6 years old.
He loves getting attention and praise in his Halloween costumes!
I think he looks so handsome dressed up.
Everyone who meet him falls in love instantly!
He's never met a stranger. Sweet Gus Gus welcomes everyone as soon as they step through the door.
He is a big hit with our house guests, at the vet, and with the cat groomer.
Gus has brought so much joy and laughter into our lives and has truly completed our little family.
Madeline fosters cats and kittens through FLUFF Nashville.
Want to see more of Gus Gus and Madeline's foster kitties?
Click below to follow them on Instagram and keep up with all their latest adventures!
Author's Note
Gus Gus sure is handsome, but please remember that he's a rescue cat!
Here at National Kitty, we're strong advocates of rescue cat adoption.
If you're considering adopting a particular cat breed, check with local rescues before resorting to a breeder.
There are an abundance of purebred cats surrendered to shelters/rescue groups who need loving forever families.
Even if a rescue organization doesn't have the cat breed you're looking for, they can put you on a list and notify you when they do.
This way you can adopt the cat of your dreams in the most ethical way possible!
Adopt, don't shop.
---
Want your cat to be featured as Kitty of the Week? Click here to get started!