**WARNING: Readers may find medical images graphic.**
Our story begins on a hot summer day in Hawaii when a woman agreed to foster a litter of kittens that were suffering from severe eye infections.
One kitten, however, was in much worse condition than the others.
She realized that he was going to need special help in order to thrive.
Keep reading to find out how this blind kitten suffering on the streets ended up living happily ever after with a family he can call his own!
A Shocking Discovery
Toward the end of May, a woman received a litter of foster kittens with severe eye infections through the rescue group, Catopia Hawaii.
One kitten in particular had it much worse than his siblings. As an experienced cat foster, the woman knew he would need special attention.
The woman posted in the rescue group explaining the kitten's special needs and waited with fingers crossed.
Luckily, the right person saw her post…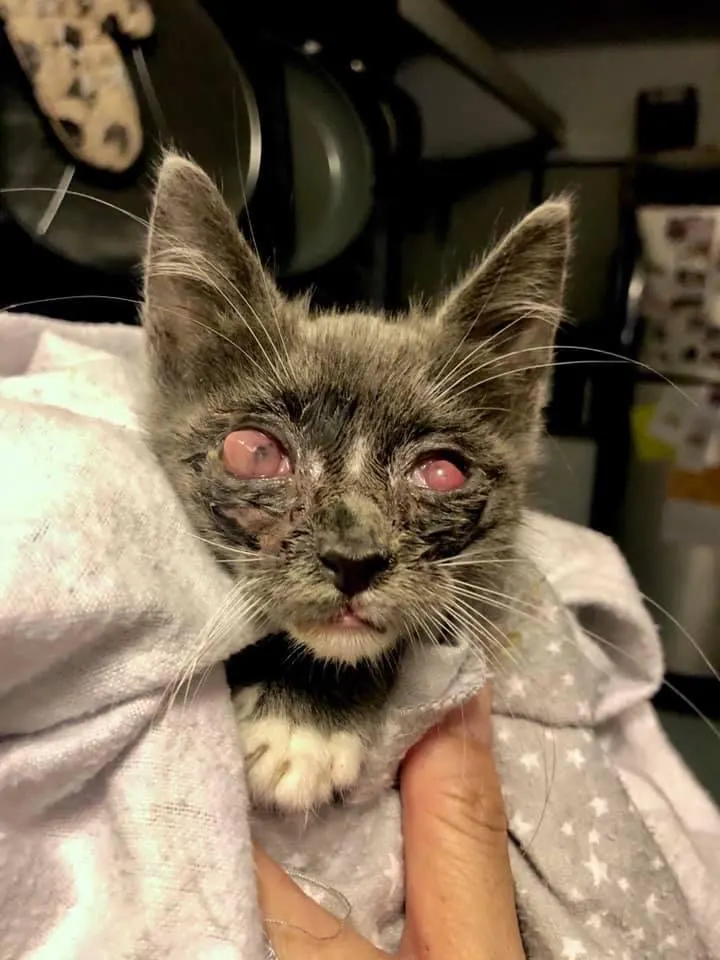 Helpful Heroes
Bret Thompsett, an animal welfare advocate and volunteer cat rescuer for Catopia Hawaii, was quick to jump into action.
Bret had recently rescued another cat with severe eye complications, therefore he felt prepared for a similar challenge.
However, nothing could have prepared him for what he saw.
"It was the gnarliest thing. His eyes were bulging out of his head," Bret shared. "We called him Ash, from Ash Vs. Evil Dead, because he looked like something out of the show."
Fingers Crossed
The woman who originally fostered Ash had already taken him to the vet.
The vet had given her an ointment for Ash's eyes, which Bret continued to use according to the vet's instructions.
They suspected Ash suffered from a combination of conditions: feline herpes, an eye infection, and an upper respiratory infection.
Though things looked grim, Bret and his girlfriend remained positive and hopeful.
They continued to treat Ash while showering him with love and attention.
A Silver Lining
Bret's efforts seemed to begin paying off!
"After about a week, things began to look better," Bret shared. "After two weeks, they looked even better! The response was so rapid, after a month or so, you could see his iris again."
At first, they were worried that the damage might have blinded Ash for life.
Then Bret realized Ash had regained some vision!
Ash's eyesight would never make a full recovery, but his limited vision along with his other keen senses helped him naviage just fine.
Ash now enjoys a wonderful quality of life!
He is free to pounce, jump, and play like the healthy, happy kitten he is.
Happily Ever After
From day one, Bret and his girlfriend knew Ash was a very unique, quirky kitten.
Ash is also very strong despite his medical obstacles.
"We call him our little bulldog, because I don't know if he pumps iron while we're asleep or what, but he is extremely muscular," Bret shared. "He is the most loving cat we've had."
Ash is extraordinarily affectionate. He enjoys the company of both humans and cats.
He's quick to show love and excitement around visitors!
Because of Ash's friendly demeanor, he was quickly adopted by the perfect family.
Bret and his girlfriend were sad to see Ash go, but also excited for him to start this new chapter of life.
Ash will never have to worry about being sick or hungry ever again.
Now he can focus on being a playful, loving kitten with his new forever family!
About Our Heroes
Bret Thompsett is a volunteer foster/rescuer for cats in a region of Hawaii where animal welfare resources are limited and severely underfunded.
Every cent of donations are spent on facilitating the rescue and rehabilitation of cats in critical condition, much like sweet Ash.
If you'd like to help support Bret's rescue cats & kittens, please click here to donate food and supplies directly from his Amazon Wishlist.
Click here if you'd like to donate to toward his medical fund for injured or sick cats and kittens.
All donations, no matter how small, help Bret continue to rescue and foster cats in Hawaii, a state with limited rescue resources where cats are often overlooked, neglected, and abused.
Be sure to follow this heroic cat dad on Instagram for updates on his latest rescue cats!
---
Get the best cat stories right in your mailbox!